"EEOC has transformed its systemic program in the past decade by investing in staff, training, and technology to build systemic expertise in every EEOC district," reflected EEOC Chair Jenny R. Yang. These investments have produced a 250 percent increase in systemic investigations in the past five years.
Highlighting EEOC's significant achievements in resolving systemic cases, the review reports a 94% success rate in systemic lawsuits. In addition, EEOC tripled the amount of monetary relief recovered for victims in the past five fiscal years from 2011 through 2015, compared to the monetary relief recovered in the first five years after the Systemic Task Force Report of 2006. EEOC also tripled the rate of successful voluntary conciliations of systemic investigations from 21% in fiscal year 2007 to 64% in fiscal year 2015.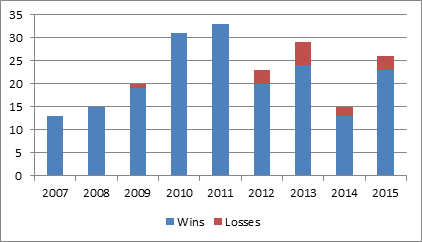 EEOC's Successes in Systemic Litigation
Regarding pre-employment assessments, the press release states:
EEOC's systemic investigations have also led to changes in hiring assessment screens that discriminated based on race, sex and disability. In a public conciliation with Target Corporation, EEOC found that four hiring assessments formerly used by the retailer were not job-related and consistent with business necessity as required by Title VII and the ADA. Target agreed to pay $2.8 million to resolve a Commissioner's charge of discrimination alleging the assessments affected thousands of applicants and agreed to ensure that future hiring screens were validated to prevent discrimination against future applicants.
In "
EEOC Burnishes Systemic Successes and Intentions
," Jackson Lewis, a management side labor and employment law firm, writes:
The EEOC believes that employers too often ignore its pronouncements. Therefore, the EEOC considers the best way to obtain compliance is to leverage its resources by making an example of certain employers through systemic enforcement and lawsuits.
The EEOC defines systemic discrimination as pattern or practice, policy, or class cases where the discrimination has a broad impact on an industry, profession, company, or geographic location.
According to the Jackson Lewis article, "The [EEOC review] provides clues to the agency's intentions in aspirational statements and disclosures about the EEOC's investments and nationwide teams." These include:
Tests. Like the EEOC's challenges to background checks, the EEOC's concern with tests and assessments is that these selection criteria have an unlawful disparate impact. The [EEOC review] lists only one recent success challenging an employer's use of a test as a selection device. However, it makes several references to the EEOC's interest in scrutinizing tests and assessments.
While the EEOC review only lists the public conciliation with Target Corporation noted above, as noted in a
September 2014 cover story in the Wall Street Journal
, there are at least two ongoing systemic investigations relating to the use of pre-employment assessments and claims under the Americans with Disabilities Act that the assessments unlawfully screen out persons with mental disabilities and that the assessments are illegal pre-employment medical examinations.
The EEOC review states:
Moving forward, EEOC will focus on three key areas in order to expand the agency's impact and better serve the public: 1) executing national strategies to address persistent and emerging systemic issues; 2) advancing solutions that promote lasting opportunity in the workplace; and 3) strengthening the agency's technology and infrastructure.
Persistent and emerging systemic issues include those listed as national priorities in the EEOC's
Strategic Enforcement Plan
(SEP). First on the list of national priorities in the SEP is:
Eliminating Barriers in Recruitment and Hiring. The EEOC will target class-based intentional recruitment and hiring discrimination and facially neutral recruitment and hiring practices that adversely impact particular groups. Racial, ethnic, and religious groups, older workers, women, and people with disabilities continue to confront discriminatory policies and practices at the recruitment and hiring stages. These include exclusionary policies and practices, the channeling/steering of individuals into specific jobs due to their status in a particular group, restrictive application processes, and the use of screening tools (e.g., pre-employment tests, background checks, date-of-birth inquiries). Because of the EEOC's access to data, documents and potential evidence of discrimination in recruitment and hiring, the EEOC is better situated to address these issues than individuals or private attorneys, who have difficulties obtaining such information.
(Emphasis added)